Whether you work outside or WFH, there are instances when you just lose track of time, then suddenly you remember that you skipped lunch.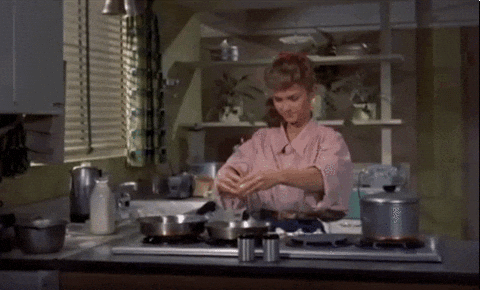 Source: Giphy
You know it's uhealthy, and you need to eat something, but you only got 5 minutes or so to prepare your meal. What are you supposed to cook?
Tuna-Egg Stir-Fry
A can of tuna in oil, some cut veggies, an egg, and a cup of leftover rice are all you need.
Heat up a pan with the oil from the tuna, put in the tuna meat, add the cut veggies until cooked. Put in the leftover rice and keep mixing until everything is cooked.
Finally, crack the egg on top and mix in until the egg is cooked. Sprinkle some pepper, and there you go, eat to your heart's happiness.
Pizza Bread
All you need are leftover bread, tomato sauce or spaghetti sauce, leftover ham or hotdog cut into bits, and cheese.
First, spread the sauce on top of your bread, then add the meat, and finally the cheese for your toppings.
Pop it in the oven until the bread gets crusty and the cheese is melted. No need to call the pizza guy.
Healthy Egg Skillet
If you got 2-3 eggs, just whisk them. Chop some veggies and sausages.
Saute the veggies and sausages in a bit of oil in your skillet. When they're cooked, pour in the eggs.
Top with cheese, and flavor with salt and pepper. And then you're done!
Mac & Cheese
Macaroni need not be the only thing to use. Actually, you can use any of your leftover pasta.
To make your cheese sauce, simply get a cheese spread and put more grated cheese in it as you mix together.
Then get your pasta, and simply douse it in the cheese sauce. And you're good to go!
Supply your body with food - it's fuel for your body and mind. Plus, if you eat well, you will stay healthy too. A must in these challenging times.